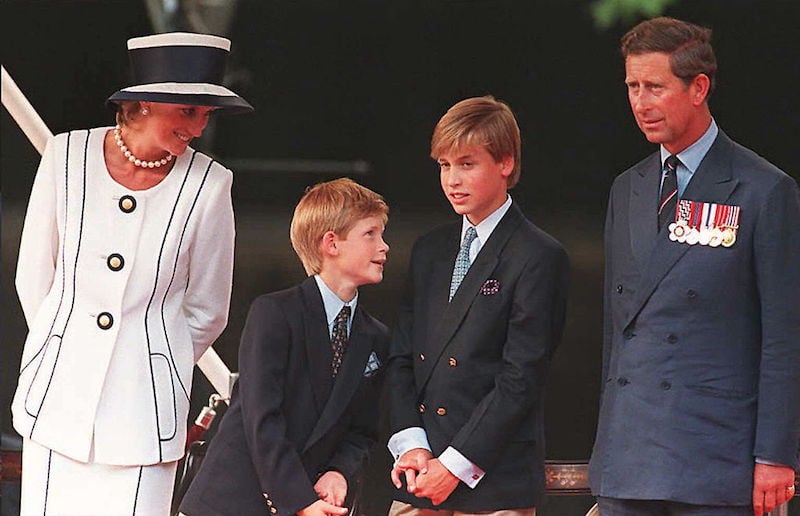 This week, the royals released a brand-new photo of Louis, with the shot finding the prince being introduced to his grandfather, Prince Charles, by Middleton.
Polo princes is the theme of another stamp, with William and Harry sharing a joke about their father during an event at Cirencester Park Polo Club in 2004, when they took part in the Gurkha Welfare Challenge Trophy. But it's little Louis who really steals the show with his dusting of light-brown hair, white t-shirt and baby blue shorts.
Digital Wizarding World Pottermore (a website devoted to all things Harry Potter) pointed out that Kate and William's 6-month-old son Prince Louis' name bears significance to a beloved red-headed family in the Harry Potter universe.
It was the first time we'd seen little Louis since his christening in July and we got rather excited - so much so that we didn't even pay attention to Kate's outfit in the photo. Because when he's there, he's brilliant.
The message inside the card read: 'The Duke and Duchess of Cambridge were touched that you took the trouble to write on the occasion of the Baptism of their son, Prince Louis. "He will get down on his knees and crawl about with them for hours, you know making amusing noises and laughing and my grandchildren adore him, absolutely adore him", she shared.
Married to Kate Middleton since 2011, the heart of Prince William was taken from his university years where he met his future wife at a party. "And again, both of us thought, 'Well this is perfectly normal, everyone must do it.' We were there with our spikes, stabbing the rubbish into plastic bags".