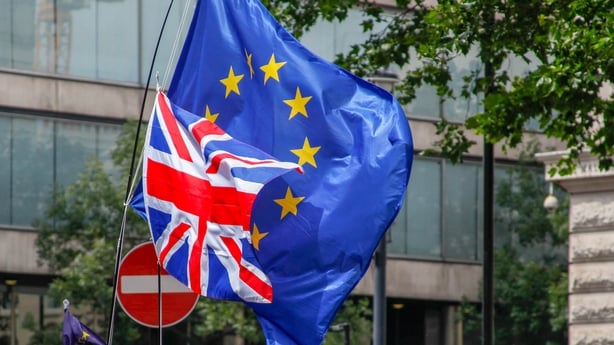 In her crucial keynote speech to the Conservative conference in Birmingham on Wednesday, Mrs May said next year's post-Brexit Spending Review will set out a programme of increased investment in public services, as a mark that the decade of cuts following the financial crash is coming to an end.
On the final day of her party's conference, Mrs May rallied members, trying to address their concerns that the Conservatives are becoming increasingly directionless under the weight of Brexit by calling on them to look to a brighter future. Instead, it appears that the United Kingdom plans to have the same external tariffs as the European Union and be bound by its trade policy for many years hence, until a mutually acceptable technological solution to the Irish border issue can be found.
She was backed by the Leader of the Commons Andrea Leadsom - a prominent Leave campaigner in the referendum - who said it met her "red lines" for Brexit. But May also has her share of heavyweight supporters both inside the party and Brussels who think any alternative to her plan would make matters far worse.
But she did her best to appear carefree as she sashayed on to the stage to Abba hit Dancing Queen and joked about the coughing fit and collapsing stage backdrop which marred her calamitous conference speech in Manchester a year ago. That "If we stick together and hold our nerve I know we can get a deal that delivers for Britain"? "Even if we do not all agree on every part of this proposal, we need to come together", May said.
Britain's Prime minister Theresa May arrives at the European Council headquarter on the second day of a summit of European Union (EU) leaders on March 23, 2018, in Brussels.
Conservative lawmaker James Duddridge on Wednesday called the Brexit negotiations "an absolute disaster" and said Johnson's speech had been "inspirational".
Part of this appeal to the masses involved a shout-out to a diverse range of high-profile Conservatives: first, was Sajid Javid, who has just devised a plan to restrict immigration to all but the most skilled workers, and was almost in tears when May said "If your mum and dad arrived from Pakistan on a plane, you can become Home Secretary.' Then came a nod to Esther McVey, who used her own conference speech to say she was a 'Barnardo's child" as May said 'If you spent time in care, you can sit in the cabinet.' LGBTQ+ rights were also bigged up via the mention of Ruth Davidson, 'If you're pregnant with your first child and engaged to your girlfriend, you could be the first minister of Scotland'.
Wednesday's speech was considerably smoother. That's across the Conservative party, across the benches in Parliament and across the country as we all hurtle towards May's dream of Brexit.
"My only word of caution, because like many grassroots Conservatives I'm a strong, strong Brexiteer, so I'm hoping with the next round of talks the prime minister goes ahead with the same vehement passion she showed in the auditorium".
"It is no surprise that we have had a range of different views expressed this week", she said.
But Northern Ireland's Democratic Unionist Party (DUP) on Tuesday appeared to reject the idea outright - a prospect that could kill any arrangement May reaches with the EU. "First, honouring the result of the referendum. and secondly, to seek a good trading and security relationship with our neighbours after we have left".
Her own future remains full of uncertainty.
Speculation is growing that London may accept some checks on goods passing between British-ruled Northern Ireland and the rest of Britain.
"So this is our proposal".
"This is our proposal: taking back control of our borders, laws and money". Good for jobs, good for the Union. It delivers on the referendum.