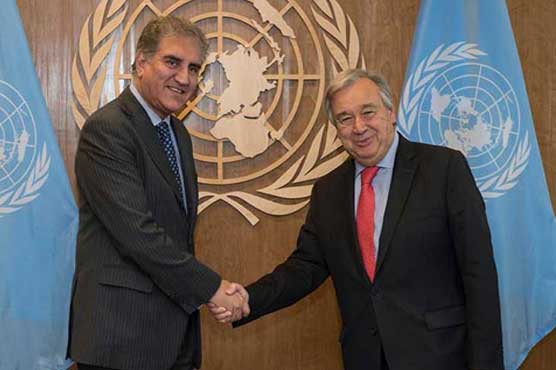 Foreign Minister Shah Mehmood Qureshi has accused India of financing terror attacks in Pakistan and said the neighbouring country was behind the killings of schoolchildren in Peshawar and a suicide attack in Mastung. In a fiery speech before the UNGA, Swaraj justified India's recent decision to call off the meeting with her Pakistani counterpart to dismiss the latter's claims that India is trying to sabotage the talks as a "lie". Once again exposing Pakistan's support to terrorists and terror outfits, India's external affairs minister said that while the Osama Laden was found and killed there, UN-designated terrorist Hafiz Saeed roams free.
Aiming at Pakistan's claim of fighting terrorism, India asked Pakistan to deny being the host and patron of 132 of the UN-designated terrorists and 22 terrorist entities under the 1267 and the 1988 UN Security Council sanctions regime.
She recalled that in December 2016, "I personally went to Islamabad and offered a comprehensive bilateral dialogue. Does this indicate a desire for dialogue?", Swaraj said.
"But soon after, Pakistan-sponsored terrorists attacked our air force base in Pathankot on January 2". Please explain to me how we could pursue talks in the midst of terrorist bloodshed? While it may not be the case for Pakistan but for India every loss of life counts.
On Pakistan's accusations of human rights violations in Kashmir, Swaraj slammed the allegations by saying: "Who can be a greater transgressor of human rights than a terrorist?"
According to a report published by Geo news said that in a meeting with UN Secretary-General, Antonio Guterres, Qureshi highlighted the plight of the people of Jammu and Kashmir. On one hand, we want to fight terrorism; on the other, we can not define it.
She also urged the United Nations for an early adoption of the CCIT that was introduced by India to the world body in 1996.
Swaraj said, "On the one hand, we want to fight terrorism; on the other, we can not define it". If we do not act now, we will have to deal with conflagration later.
She said, at the heart of Prime Minister Modi's transformative vision is an idea that the uplift of any nation is best achieved through the all-round empowerment of women.
"Those who have exploited nature for their immediate needs can not abdicate their responsibilities".
The Indian minister urged upon the developed nations that they must lift the deprived with financial and technical resources. "If the United Nations is ineffective, the whole concept of multilateralism will collapse", she warned.
# Sushma Swaraj UNGA address begins: EAM Sushma Swaraj begins her statement at the UNGA Congratulating Ma Fernanda Espinosa on assuming the position as the President of the 73rd Session of the UNGA, EAM said that the first woman to occupy this eminent chair was an Indian Smt. "Hence our belief that talks and terror can not go together", Ms Gambhir noted.