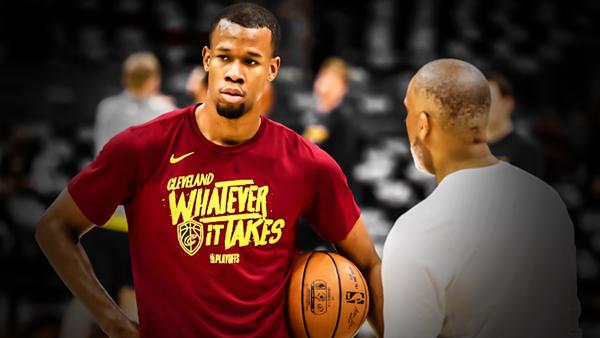 He was the only Cleveland player to log zero minutes in Game 4.
The Cavs won't play until next Wednesday, May 16, at the earliest.
One role player that wasn't seen on the court was Rodney Hood, who reportedly refused to enter the game with just over seven minutes left in the fourth quarter and the Cavaliers holding a healthy lead.
As first reported by The Athletic, Hood refused to check into Game 4 when Cavs coach Tyronn Lue attempted to sub him in during a timeout with 7:38 remaining in the fourth quarter and Cleveland up 110-80. Lue instead called upon Jose Calderon to replace LeBron James. It was a great opportunity for a struggling youngster to try to find his rhythm without any pressure before the next series. However, Hood refused to enter the game which reportedly angered some of his teammates. After appearing in the Cavs' first 10 postseason games, the reserve guard had yet to play in what would be a 128-93 blowout victory, effectively losing his spot in the rotation to rookie Cedi Osman.
Hood met with Cavaliers general manager Koby Altman on Tuesday and apologized for not checking into the game, according to ESPN.
Numerous teammates tried talking to Hood to get him to check into the game, but he wouldn't budge.
Hood, 25, was acquired on February 8 in a trade with the Utah Jazz as part of a three-team deal that also brought George Hill to Cleveland. Hood started Game 1 of the Cavs' first-round series against the Pacers, scoring nine points in a 98-80 loss.
Hood will be a restricted free agent this summer.
Hood scored just 2 points on 1-of-9 shooting in three appearances against the Raptors.
While Cleveland has gotten by without Hood and coasted past the Raptors, if Hood can give them some kind of secondary playmaking and 3-point shooting, that would give them another dynamic they desperately need in a potential NBA Finals matchup against Houston or Golden State.