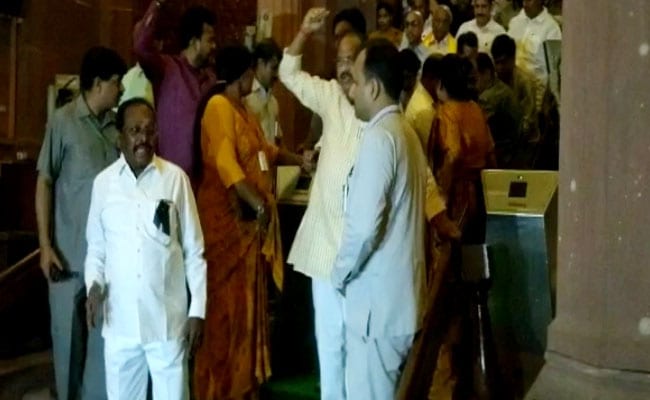 TDP MPs protest over the demand of special category status for Andhra Pradesh at Lok Kalyan Marg in New Delhi on Sunday.
The Aam Aadmi Party (AAP) national convenor also went to meet the parliamentarians at Tughlak Road police station.
The following day, they continued with their protests inside the Parliament premises as they were marshalled out from the office of Mahajan. Five MPs of YSR Congress, who is also supporting the cause, announced their resignation from the Lower House on Friday to protest against the NDA government's "failure" in the case.
The support from AAP head Kejriwal comes days after Andhra Pradesh Chief Minister Chandrababu Naidu met with the Delhi CM as part of his efforts to mobilise support for the no-confidence motion against the government over the special status issue. They had to be forcefully removed later in the evening.
Both Andhra Pradesh's ruling TDP and Opposition YSR Congress Party have been conducting extensive protests against the Centre, since there was no mention of a special category status or financial package for the state in the Union Budget 2018. "By standing against Narendra Modi, we could, for the first time, bring our problems to the notice of the nation", the Andhra Pradesh chief minister said, as per ANI. "Mr Modi assured me that he would justly refer to Andhra Pradesh in all the meetings we jointly addressed during the 2014 polls".
The Andhra Pradesh Assembly on Friday passed a resolution demanding a special session of Parliament to discuss the implementation of the AP Reorganisation Act.