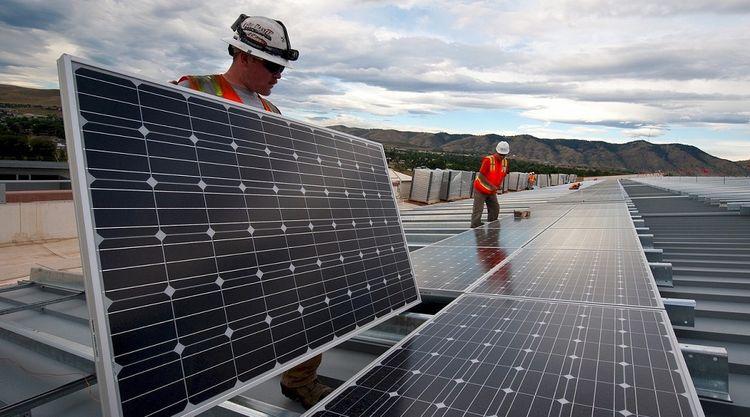 Chief Executive Masayoshi Son is announcing a $200-billion solar power project in Saudi Arabia.
By 2030 the kingdom expects solar panels with a capacity of 200GW to roll out across the Saudi Arabia, which is more than triple the UK's total installed power capacity.
SoftBank founder Masayoshi Son, known for backing ambitious endeavors with flair, unveiled the project Tuesday in NY at a ceremony with Saudi Crown Prince Mohammed Bin Salman.
By investing in solar power, Saudi Arabia, the world's biggest oil exporter, can reduce the amount of crude it now uses to generate power and increase its overseas shipments.
The deal comes as Saudi Arabia's Crown Prince Mohammed bin Salman strengthens the country's investment ties with Japan-based SoftBank. The first phase of construction will begin later this year; seven percent of maximum capacity will be reached by 2019.
According to Masayoshi, the project is likely to reduce power costs by $40 billion and create around 100,000 jobs.
"These two visions have come together to create clean, sustainable, low-priced and productive renewable energy", he said. "The kingdom has great sunshine, great size of available land and great engineers, great labor, but most importantly, the best and greatest vision", Son told reporters.
One possibility would be using the proceeds from the Saudi Aramco IPO, which Saudi officials have repeatedly boasted would raise around $100 billion, although independent analysts question that figure.
Saudi's entire installed power capacity is now around 60 GW. The country now gets the vast majority of its 77 gigawatts of generation capacity from oil and natural gas. Exporting that oil could increase Saudi's annual oil revenues by between $7 billion and $20 billion, at the current price for benchmark Brent oil of nearly $70 per barrel. The project is also set to more than quadruple Saudi Arabia's solar capacity, which is now around 60GW.
Installation of the solar panels is planned to start this year, and the project should start producing electricity by the middle of next year.
The announcement could boost confidence in the crown prince's efforts to attract billions in foreign investment during his US tour after the unprecedented arrest of hundreds of top figures in Saudi Arabia, including prices, business moguls and military officers a year ago.
Part of the investment will come from Softbank's $93bn Vision Fund, the largest ever private equity fund of which Saudi Arabia is the largest backer. The country burns oil for about a third of its electricity, a costly way of generating power both environmentally and in terms of lost oil exports. SoftBank estimated the electrification drive could create a requirement for over 150 GW of additional power.
Saudi Arabia also plans to build at least 16 nuclear reactors over the next 25 years at a cost of more than US$80 billion.