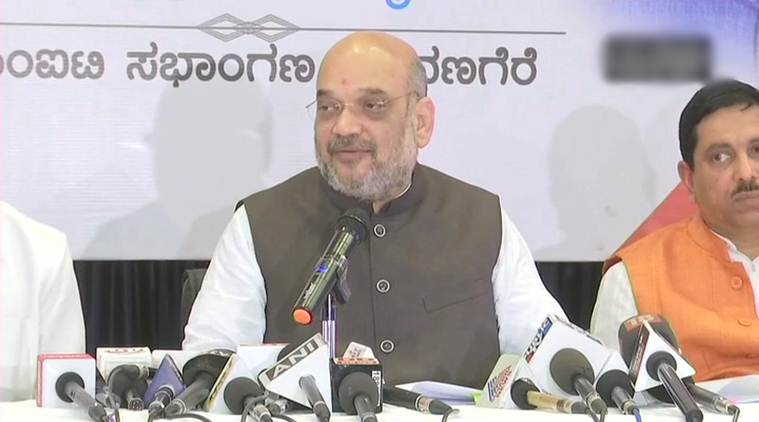 O.P. Rawat announces the schedule for Karnataka elections at a press conference in New Delhi on Tuesday.
Earlier in the day, Amit Malviya, head of the BJP's Information Technology cell, tweeted the date of the Karnataka Assembly polls before the EC announcement.
As the Karnataka Assembly elections draw closer, the incumbent Congress has a clear edge over the other parties in the State, said a pre-poll survey by C-Fore, which has also predicted a better outing for Opposition BJP.
- Siddaramaiah (@siddaramaiah) March 27, 2018Now that the BJP IT cell has announced Karnataka elections, time for a sneak preview of our top secret campaign video!
Karnataka, where the Congress and the BJP are set to clash for major sweepstakes ahead of the next year Lok Sabha polls, will vote on May 12 in a single-phased poll to elect its new assembly.
Union Minister Mukhtar Abbas Naqvi, accompanied by fellow BJP leaders Bhupender Yadav and Anil Bulani and others, met the Election Commission to explain their position and how their IT chief Malviya went by the television channel as the source of his tweet.
Rawat's statement came in reply to a question by a reporter who asked how some people associated with the Bhartiya Janata Party (BJP) are circualting the Karnataka election dates before the Election Commission. This means that the model code of conduct is applicable in the state now with immediate effect.
The report has to be submitted in seven days by the probe panel in connection with the matter.
"I hope that our democracy is not so weak, otherwise the BJP will start announcing the election results also", he said.
Replying to a query, Parameshwara said, "Myself, Siddaramaiah and the party also are aware of anti-incumbency factor, but the Congress is going to definitely form the next government by winning May 12 elections", he said. The credibility of EC is on a test. Congress is also going all out to retain one of the few bigger states that it is in power now.
As you all may know that the political temperature is on heat already where Congress president Rahul Gandhi and BJP national chief Amit Shah kicking off campaigning in battleground constituencies.
Both got the polling date right and the counting date wrong.